Welcome ! Nice to meet you!
I am so happy to welcome you on this page for English-speakers!

MY MISSION
I help highly sensitive, empath, multipotential, ambitious, resilient, fantastic women:
heal the wounded parts in themselves (thanks to deep energy work and efficient tools)

reveal and unleash the Goddess in themselves

attract & keep their Mr Right...

...and live a happy, fulfilling & healthy love relationship!

Let's go back a few years ago & discover the experiences that brought me there!
I was in my 20s, single, with the child's dream of living a simple, happy and love-filled life as I saw my parents fight and yell when I was a little girl. I made a promise to myself that by 30, I would have reached couple bliss.

I was a successful young woman in my career, attended the best Parisian and foreign universities, got 2 M.As and teaching diplomas both in France and abroad, lived and worked in England and Spain. I would adapt in all circumstances.
Everybody would say that I was kind, pretty and intelligent YET I was struggling SO MUCH in love! I was wondering what could possibly go wrong...with me!
Here is rapidly what I went through...
Going out with a man who told me he did not love his girlfriend anymore and would leave her (and of course, didn't!)

Being courted by men to whom I would not be attracted to or just were not a good match (even if they were nice, well-educated men), or just…it was not the right time for both of us, even if we had the same long-term dream and common common values

Having an AMAZING, magical 3 months relationship, then the next 3 were not so great and then ended up being dumped, feeling deeply hurt, rejected and thinking that I was not enough to make a man happy on the long run.

Being cheated on repeatedly and creatively by a man for whom I had left a job abroad to be closer to him (and not to endure a long-distance relationship) and as a result I saw my self-esteem go into pieces and felt chaos in all my cells, so much that I would cry endlessly and it affected other areas of my life.

and even... having sex with a man I knew very little of... thinking that maybe that could be the beginning of what I so much wanted...

A BEAUTIFUL LOVE STORY, WITH A FAITHFUL MAN WHO WOULD ADORE ME!!



MY PERSONAL JOURNEY
Life is so much brighter with someone you love by your side!

After having discovered my ex cheated on me - while we were having a really passionate relationship!- my self-esteem went into pieces and I was trying to get what I had done wrong. But there was always something new & disappointing to discover about this guy's behavior, my life became a nightmare, I was turning into someone I wasn't!
So one day, I drove into the beautiful rural area in South-East Paris, crying all the tears I possibly could, shaking, driving with no precise destination.
There, I reflected at how a mess my love life really was.
I ended up in the small church in the internationally known, lovely impressionist painters' picturesque village of Barbizon.
I wasn't religious, but I found comfort in this place, asking for help, swearing I would take action.
And the miracle started manifesting!
I found the courage to end this toxic relationship and decided to stick to a method that had already helped millions of women all over the world get what I was looking for: a healthy and fulfilling relationship, with a ring as a cherry on the cake!
So I started to seriously apply Ellen Fein & Sherrie Schneider's world-famous Rules and went out, had fun on dates, lived my life, met men, practiced the Rules.

Do I believe in soulmates? Definitely!! I met my husband-to-be on holidays in the French Alps (the place I would normally never go to!) where a newly online-met female friend suggested I'd join her and some of her school friends!! (when you know I'm an introvert, you easily get that I really hesitated!!)

I followed The Rules, we had a long-distance relationship because of work-related matters. But in the end, two years after we started dating, we got engaged facing Etretat's famous cliffs at sunset and had a dreamy, romantic wedding, surrounded by our loved ones!

Today, I am happily married and madly in love with my wonderful husband. He is the most caring, loving and supportive husband. I am so grateful and honored to share my life with him! We celebrated our 10th wedding anniversary in July 2018.
We also have been Blessed to be the parents of two amazing kids.

We are also adventurers! We have chosen to be expats and discover countries and people as a family experience. This is why we are now based in Texas, but I want to serve women from all parts of the world and help them live the fairytale love I am experiencing everyday.

NOW, enough about me, I'D LIKE TO DISCOVER MORE ABOUT YOU!!!

Ready for the great adventure of forever love?
Ready to embark on a:
deep

joyful

wonderful

journey, guided, supported and encouraged by someone who has:


overcome the issues you're facing today AND

has chosen to dedicate her life to help heartbreaks and love pain?


Well I'm glad the magic of Internet and the Universe have merged for us to be on the same path today, and would be happy to plan a free 30 min LOVE DIAGNOSIS CALL with you to see if we would be a good energetic match to work together and see what coaching package would be best in your present situation!
Would you be happy for us to spend these 30 minutes (no engagement, you've literally nothing to lose!) together?

Then immediately book your session by clicking on the black button below to secure your spot!

P.S: No time suiting your timezone/needs? No worries, just send me an email (click on the image of a letter in the icons at the bottom of the page) mentionning the days/time (with time zone indicated) when you'd like us to figure out how we could work together and we'll find a way to get in touch soon!
You may have read me here (click on titles below to read my contributions):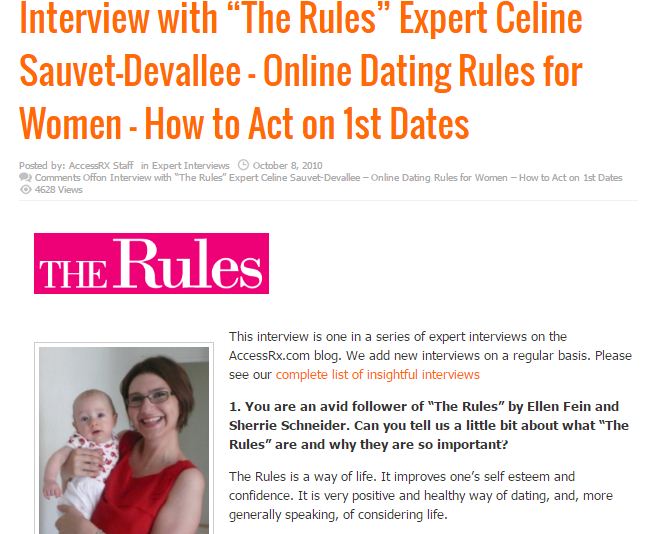 I am the first French-speaking Rules-certified dating and relationship coach!
Find me on social media by clicking on the images below! Can't wait to get to know you better on the different platforms!